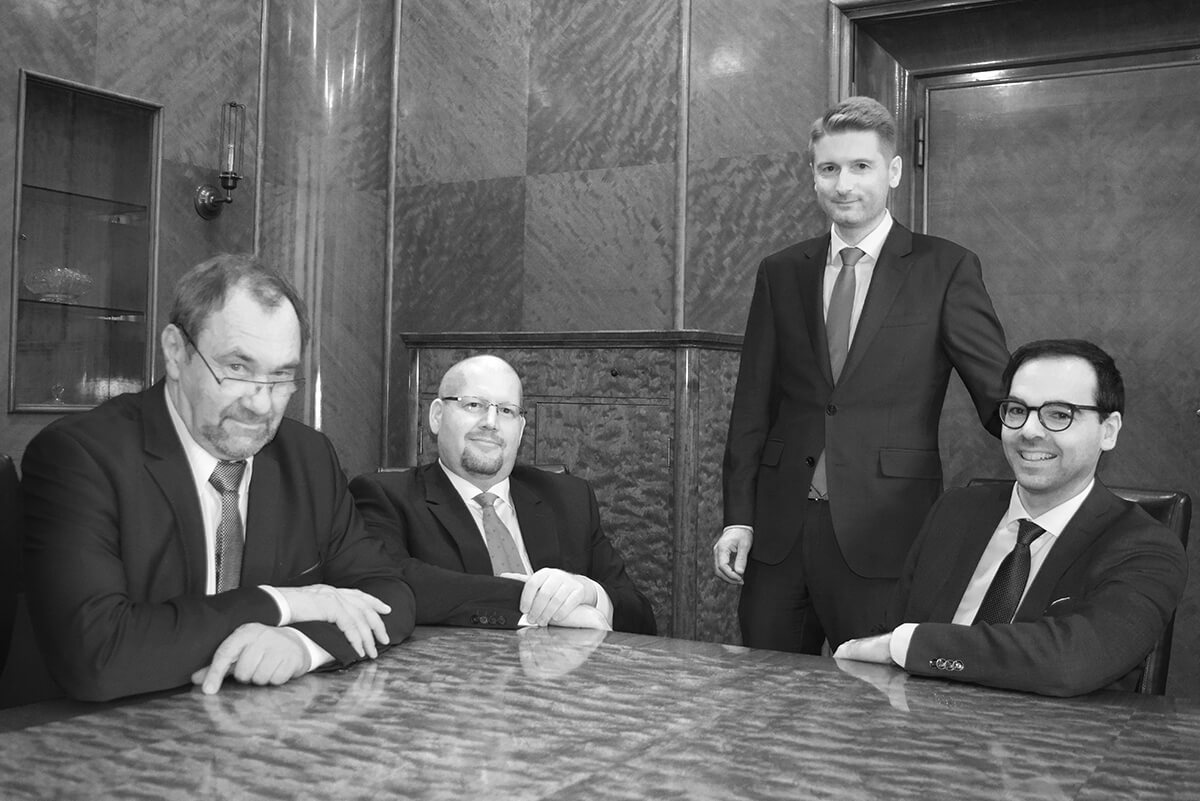 We provide legal solutions to the problems of our clients, transforming threats into opportunities. Our lawyers are experts in the areas of law to which they are dedicated. For us, a conflict represents an opportunity to solve a problem. We approach conflicts between two parties with the objective of reducing the tension, seeking to minimize the risk of litigation, whenever possible. We base the communication with our clients on honesty and empathy, which allows us to always find the best strategy to achieve the best possible solution to their problems.
Our attorneys possess vast knowledge and experience in all key areas of Czech and European law. Their extensive experience derives from many years of national and international legal practice (some uninterruptedly since 1976), as well as from the practice of other legal professions. In our team, we have an arbitrator of the "Arbitration Court attached to the Economic Chamber of the Czech Republic and Agricultural Chamber of the Czech Republic", an arbitrator of the "International Court of Arbitration of the International Chamber of Commerce of Paris (ICC)", bankruptcy administrators, sworn interpreters, court experts, tax advisors, auditors, accountants, etc.
Collaborations
Our partners
We cooperate with international organizations and partner companies all over the world. This allows us to provide our clients with a wide range of additional complementary services and business opportunities. We want our partners and customers to grow personally and professionally, so whenever possible, we help create synergies between their activities.
EALG
Our membership in the Euro-American Lawyers Group (EALG) ensures our clients with quick and direct access to high quality legal services worldwide. Founded in 1985, the EALG is an international association of twenty-six independent law firms with contacts all over the world.
DTIHK
The Czech-German Chamber of Commerce and Industry (DTIHK) is the largest bilateral foreign chamber of commerce in the Czech Republic and in the world. As a member of this chamber, we have access to contacts and providers of services that will promote and protect the business interests of our clients all over the world. One of our firm's partners, Dr. Klein, was a founding member of the DTIHK, therefore our connection with this institution goes back decades. As part of a worldwide network of 130 chambers of commerce, the DTIHK offers facilities for opening and conducting business abroad.
COCERC - The Official Spanish Chamber of Commerce in the Czech Republic
Our law-firm is one of the few in the Czech Republic that offers its legal services in Spanish. We have therefore over the years developed strong ties with Spain as well as other Spanish-speaking countries. For those reasons we actively support the Official Spanish Chamber of Commerce in the Czech Republic (COCERC). As one of its main partners, we are actively contributing to the objectives of the COCERC: to serve as a social, cultural, commercial, and economic bridge between Spain and the Czech Republic.
AIPPI
As members of the Association Internationale pour la Protection de la Propriété Intellectuelle (AIPPI), we are always aware of the latest news and developments in the area of Intellectual Property, which makes it possible for us to provide superior services in this field. Factors such as globalization, the Internet, or the rapid and continuous advancement of science, can make it difficult for lawyers to follow and keep up with all the novelties in the field of intellectual property law as it is subject to constant changes and modifications. The AIPPI is an organization that keeps all of its 8,000+ members from 130 countries up to date with the latest worldwide developments in intellectual and industrial property rights.
Pajares & Asociados Abogados
A Spanish law firm with more than 60 years of history and a large network of collaborating law firms worldwide, especially in Latin America. In addition to providing top quality legal services, Pajares & Asociados can provide business contacts all over the world.